Historical. Interesting. Steeped in history. 
With the Almencard guest card, which you get on arrival, you the opportunity to visit over 90 castles, museums and collections in South Tyrol free of charge. Do not miss that! 
Some sights in our area: 
Castle Rodenegg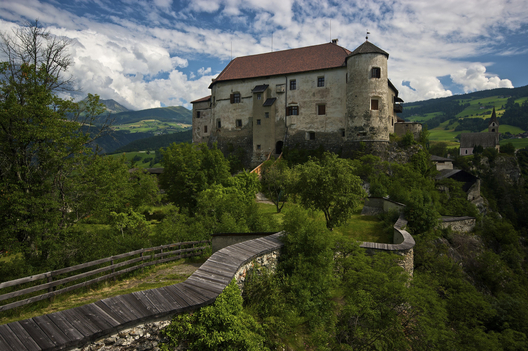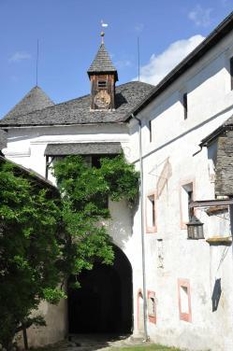 Just a 2-minute walk from the hotel is located Castle Rodenegg and opens its gates to visitors twice a day from May to the end of October, except on Saturdays. 
The origins of the castle go back to 1140. The tour leads to the Iwain frescoes from the early 13th centruy - they are among the oldest secular wall paintings in German-speaking countries - in the colorful wedding hall and the weapons collection. Have your children always wanted to feel like a real knight? You will be delighted by the guided tours for children. 
Castle Rodenegg will be open from May 1st until October 15th, 2023. The tours take place daily (except Saturdays) at 11:30 a.m. and 2:30 p.m. In the months of July and August an additional tour takes places at 4:00 p.m. For groups (15 people or more) a reservation is required. Phone +39 391 748 9492 or schloss.rodenegg@gmail.com 
Messner Mountain Museum Corones
Visit South Tyrol's highest museum at 2,275 meters above sea level on Plan de Corones, South Tyrol's No. 1 ski mountain. The museum offers a breattaking panorama and shows highlights of the famous hiker Reinhold Messner. 
Museums for young and old 
In the South Tyrolean National Museum for Folklore in Dietenheim, the life of the nobility, the self-sufficient farmers and the minority is presented in an exciting way. A walk through history. 
Castle Taufers, one of the most beautiful and mighty castles in Tyrol, is located in the Tauferer Valley and is a castle like in the history books. The ghost room and armory are sure to be exciting for your children to touch. 
At the mine and climatic tunnel in Prettau you can take the mine train to the South Tyrolean mining museum and learn a lot about the work of the minders in the copper mine. It is definitely worth a trip! 
The Museum Loden in Vintl shows the path of wool from the sheep to the finished end product as well as the production in earlier days in the modern age. The clothing store and the adjoining restaurant allow mom, dad and children to have a nice day. 
The Almencard offers the right activity for everyone and offers also free entry to all the cultural attractions.